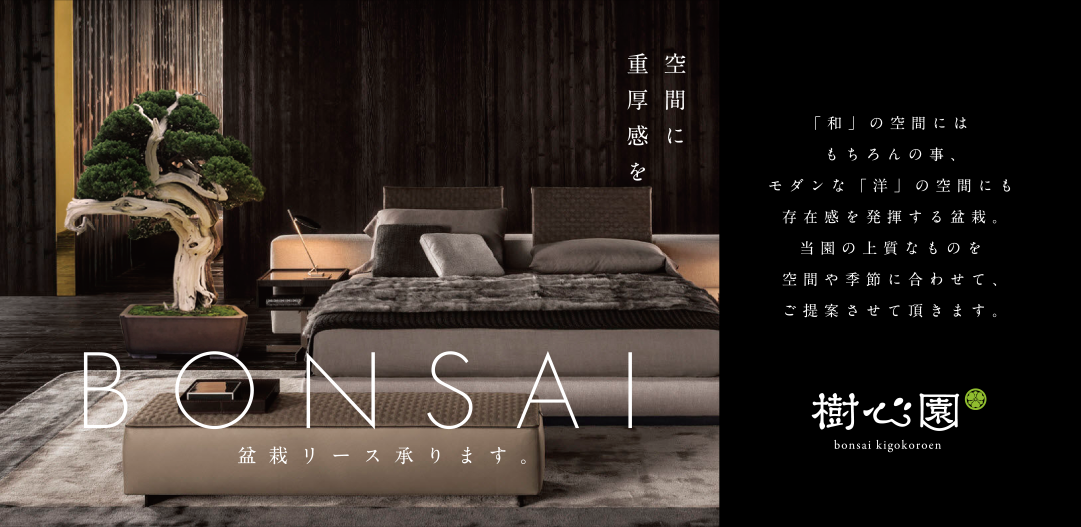 自分が惹かれた「盆栽」を伝えたい。
ここ日本に生まれ、与えられた命に感謝しつつ、
世界中の人々と共に笑顔になれたら。
この時代に盆栽を育てるうえで小さな「想い」が
世界中に響く大きな「祈り」となることを信じて。
I have no intention of forcing bonsai on anyone. I simply wish to pass along to others what it is about bonsai that has so captivated me.
While I am thankful for having been given life here in Japan, I would also like very much to come together with all of the people of the world, smiling happily.Lastly,
I continue with the belief that this little idea that I have formed cultivating bonsai will reverberate across the world, becoming an enormous prayer.
園主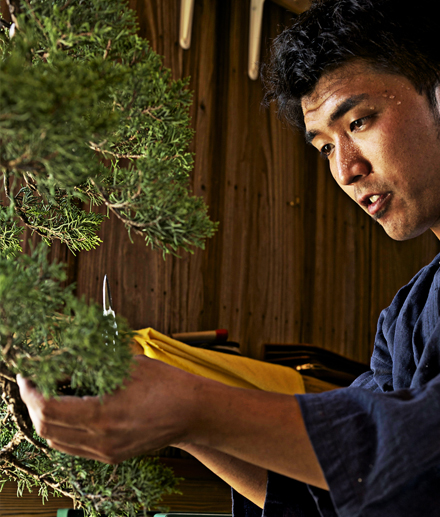 昭和57年熊本県生まれ。19歳に上京、そして海外へ旅に出る。帰国後、父親に生まれた記念に種を蒔いて作っていたという、もみじの盆栽を見せられ感動し、盆栽作家になる事を決意する。その後、盆栽界の名門「大樹園」へ熱意を伝え、入門を認めてもらい五年半の厳しい修行を積む。平成22年「樹心園」の看板を掲げる。盆栽界一の名門で培われた技術と卓越したセンスを持ちながらも、「盆栽LIVEショー」や苔で文字を描く「苔文字盆栽」や「盆栽デコレーション」など新しい盆栽の在り方も提唱している。日本問わず海外からも注目を浴びる盆栽作家。


Born in Kumamoto Prefecture in 1982, I moved to Tokyo at the age of nineteen. From there, I went on a journey abroad. Upon returning to Japan, I was shown a bonsai maple tree whose seeds had been sown in commemoration of my fathers birth. I was deeply moved and it was then that I determined to become a bonsai cultivator. After that, I was permitted to enter Daijuen, a very prestigious school in the world of bonsai, after demonstrating my great enthusiasm for bonsai and allowed to study under Kyou/Susume Suzuki. In 2010, having completed five and a half years of intensive training, I plan to start my own school, kigokoroen, in Kumamoto While having the refined, precise techniques and skills fostered bythe most prominent school in the world of bonsai along with an excellent sense, I am also a proponent of newer forms and styles of bonsai, including bonsai live performances, or cultivating moss in the shapes of letters and various sorts of collaborations with artists and decorations involving bonsai. A Bonsai Artist Receiving Attention both from within Japan and Around the World
A bonsai artist who loves trees more than anyone else, and who is loved by the trees as well.
アクセス